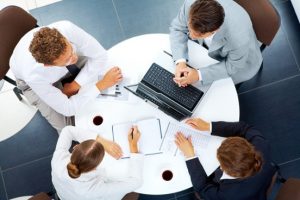 Companies are increasingly turning to benefits brokers in light of the Affordable Care Act. Ensuring compliance with laws and regulations has been a number one priority for companies who retain the services of benefits administrators, but this is only one of their essential functions. What else can you expect from a broker-employer relationship?
They'll Choose Ideal Coverage
A benefit broker's main job is to balance the needs of a company with the expectations of their employees. This requires an ongoing dialogue about how a company should minimize costs while still making its benefits package attractive to prospective employees. They also help companies meet their goals based on their priorities: is it to recruit the best talent? Or is it to increase current employee productivity? A benefits broker will help you decide which coverage is best based on your company's priorities. Get in touch with Cypress Benefits to see which coverage is best for you.
They'll Help Achieve Compliance at Minimal Cost
The Affordable Care Act has set strict rules for compliance by mandating that most employers provide basic health coverage at an affordable cost. A benefits broker can help provide creative solutions while keeping a company budget in mind. They accomplish this in several ways:
They help employers consider the benefits of high-deductible plans or other forms of self-funding coverage, like Health Savings Accounts and Health Reimbursement Arrangements.
They create procedures to effectively manage the enrollment process.
They provide hypothetical scenarios that help employers decide how different tiers of coverage could play out.
They'll Oversee Daily Operations Too
Benefits consultants do more than just help choose the ideal coverage; they'll also carry it out. Your benefits broker should be doing the daily tasks, such as completing new employee enrollment and handling terminations—and even seemingly mundane tasks like processing change of address forms.
More importantly, your broker should be someone your employees feel free to turn to when they have questions. This specialist will become a full extension of your HR department and should be a trusted resource for benefit information and procedures.
Are you ready to streamline your benefits process with an administrator? Contact Cypress Benefits to get started.